Potpourri II
By Kevin Pelton
For Hoopsworld.com
Feb. 5, 2004
Per-Minute Statistics
If there was one thing I'd like to do through this column, it would be to convince people that per-minute statistics work (within reason). I was all set to write about it, using the example of this season's so-called "breakout players" like Andrei Kirilenko, Zach Randolph, Michael Redd. Lo and behold, John Hollinger beat me to the punch with his last "The Beat" column for CNNSI.com.

I'll let Hollinger do the talking for me there, but I do have another argument to make. In my last "Potpourri" column, I took a look at how well various statistics correlated year in and year out for the same players. I found that per-minute rebounding was the most consistent, with the first year's rebound rate determining 88.1% of the next year's rebound rate. I found virtually the same thing for block rate, the only other per-minute statistic I looked at -- 85.7%.

If per-minute statistics were a function of playing time, as some people would have you believe, wouldn't we see a lot more change from year to year than that? Of course.

There are a couple of places where you can get into trouble with per-minute statistics. One is reading too much into players who've played very little time. If a player has played less than 250 minutes, or even less than 500, his statistics, per-minute or otherwise, tend to be awfully unreliable. (I limited to 500 minutes both seasons in the aforementioned study.)

The other is using the wrong per-minute statistics, notably scoring. While I don't think per-minute rebounding rates come down with increased minutes, the same is not true of scoring, in large part because of players padding their stats during garbage time. Minutes are not the driver of points, as they are for rebounds (actually, rebound opportunities are the driver of rebounds, but minutes are generally accurate enough). Possessions used drive points, field-goal and free-throw attempts. That's why I virtually never use points per minute. True shooting percentage is much, much more important.
Mapping Point Guards
Although I'm an aspiring sports writer, I'm actually a marketing major. There are some good things about that, notably the opportunity to apply business concepts to basketball. In my product management class, we've been discussing perceptual mapping -- using consumers' perceptions of various brands to evaluate how they are positioned.

We can do the same thing with basketball, although I'm interested in looking at statistics as opposed to perception. Plotting two statistics can give us an interesting look at how players at a position match up.

The position I naturally thought of was point guard, because it, more than any other position, is defined by two things -- scoring and passing. Obviously, rebounding and defense are important, but the first one is not that important and the second is tough to quantify statistically.

For both attributes, I used my own statistical ratings. The one for scoring combines points per minute (the one time I use it) and true shooting percentage, and the one for passing combines assist/turnover ratio and assists per minute, with more emphasis on the assist rate to reflect its relative importance. The basic chart is not that interesting: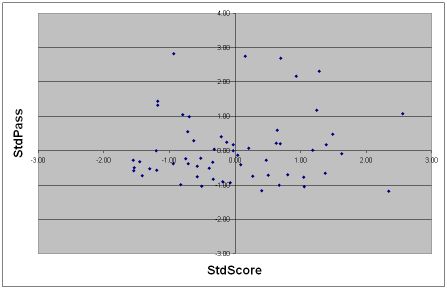 … because you don't know who any of the players are. As a result, I put together this larger version with several players' faces representing their positions. I tried to put all the league's top point guards, all the rookies at the position, and some other interesting players. Generally, players get better as they go from the bottom left to the upper right.
This map is a beginning to understanding similarity between players. If we were to make a multi-dimensional map with several other statistics and find the distance between two players, that would provide the similarity between them.
What does this map tell us?
Sam Cassell has been far and away the best point guard in the league by these two measures. His rebounding and defense don't match up with those of Jason Kidd, amongst others. Thank goodness he will make his long-overdo first All-Star appearance this season.
Amongst others, I've talked about Steve Nash being down this season, and he's no longer the league's best point guard (if you believed he was last season, which I did), but he's still an outstanding player and a fine passer.
Stephon Marbury has a reputation as a score-first guard, but this is not matched by the statistics, nor has it ever been. Marbury has always had a fine assist rate, and has improved it in New York.
The Sonics' Antonio Daniels is having an awesome season, one that's gone largely unrecognized because of his limited playing time and pedestrian averages. Daniels was an efficient player last season, but he's taking it to a new level this season. He's boosted his field-goal percentage above 50%, putting him in the elite 50/40/80 club (his percentages from the field, from downtown, and from the line). Daniels leads the league in assist/turnover ratio, and after some criticism from coach Nate McMillan about his aggressiveness in passing the ball, has handed out 37 assists in his last three games replacing the injured Brent Barry as a starter.
Damon Jones is the player you probably don't recognize on this list, the upper left-hand player. Never known as much of a passer, Jones has improved dramatically this season, averaging better than 10 assists per 48 minutes with an assist/turnover ratio second only to Daniels.
Bobby Jackson is on the other extreme on this chart, as he's basically been a shooting guard -- a very good shooting guard -- this season.
Mike Bibby, Chauncey Billups, and Andre Miller are having very similar seasons. All are score-first point guards playing on good teams.
Steve Francis' awful season is born out by his position between rookies Raul Lopez and Leandrinho Barbosa. Francis has never been much of a passer, but his 39.5% shooting (down 40 points from last season) has kept him from being particularly valuable as a scorer either.
LeBron James is clearly the best of the rookies, though based on these measures his case for the All-Star game is weak. James is a fine rebounder, but Marbury was the point guard who was omitted in the East, not James (I'm not going to use the word "snub", because it implies a certain lack of justification I don't agree with). Dwyane Wade is a tweener; his shooting hasn't quite been good enough to make him an average point guard yet this season, but should be by season's end. Barbosa has been a fine scorer, but is the worst passer in the group, while Lopez, like his teammate Carlos Arroyo, has been a better scorer but a worse passer than his reputation would suggest.
T.J. Ford is alone amongst the rookies in the upper left corner. His passing will have to improve -- specifically, he'll have to reduce his turnover average, currently 2.7 per game -- if he's to become the kind of player the Bucks hope he'll be.
Most of the rookies cluster in the lower left corner -- not a good place to be in general, but to be expected for youngsters. Kirk Hinrich has probably been overrated by the media, but has been very effective. Luke Ridnour's passing has been disappointing, but he's moving towards average as a scorer. Steve Blake's passing hasn't lived up to the hype, and he's never been a good scorer. Marcus Banks has been one of the worst regular point guards in the league this season.
From the NBDL to the Starting Five
One day, you're playing for the Huntsville Flight. The next, you're playing with the Chicago Bulls against the Miami Heat and leading the team with 18 points and nine rebounds. It's a dream scenario, but it came true for Bulls forward Ronald Dupree in his NBA debut last month. The feat led the APBR, the NBA's history society, to wonder in its discussion group whether anyone had ever done such a thing before. (Nobody came up with anything, though one person did note that Mike Wilks started his NBA debut after signing a ten-day contract with Atlanta last season.)

"I knew I could play in this league, and I got the opportunity, I was able to get some shots up, got into a good rhythm, and made them," Dupree recalled of his debut. "It was all about confidence, and it can happen -- it can happen any given night. I don't think it was a 'wildest dream' situation, I just think it was a blessing that I had an opportunity and was able to take advantage of it."

Looking at his college statistics, I thought Dupree was a solid second-round prospect in this year's draft, tabbing him as the third-best college small forward available. Instead, Dupree watched as 58 players were selected instead of him. Naturally, that came as a surprise.

"Of course, of course," he says about expecting to be drafted. "I expected to be drafted into a nice situation. A lot of things happen for a reason. That whole draft night, the next three, four months were pretty rocky. I was just able to bounce back and take that experience and turn it into something I can learn from and work to put myself in a nice situation again."

The reason Dupree wasn't picked was pretty obvious to me within seconds of sitting down to watch the Bulls shoot before Monday's game in Seattle. He's listed at 6-7, which isn't particularly big for a small forward, but even that is probably a stretch. Dupree is no taller than guard Jamal Crawford, who's listed at 6-6.

There are some players for whom this is too much to overcome. The Sonics had JaRon Rush in camp a few years ago, and he had to play shooting guard in the pros after playing small forward at UCLA. Rush had no jumper whatsoever, so despite his excellent athleticism he was never much of a threat to make the team.

Dupree played summer-league ball with the Detroit Pistons and Utah Jazz and went to camp with Detroit, where he was one of the last cuts after averaging 3.7 points per during seven preseason games. According to Dupree, the Pistons wanted to keep him, but he was caught in a numbers game.

Afterwards, Dupree chose to go to the NBDL, where he averaged 16.9 points (fourth in the D-League) and 4.6 rebounds on outstanding 55.6% shooting (third) for Huntsville before earning a callup.

His 1-for-8 shooting night against the Sonics aside, Dupree could have the skills to overcome his size and be a solid contributor. Dupree did hit 35.1% from downtown as a senior at LSU, and he appears to have the work ethic to improve his game. He's played hard and well since joining the Bulls, briefly cracking the starting lineup, and I like his attitude.

"Things happen for a reason," he philosophized. "When one door closes, another one opens.

"The draft was pretty crazy in itself, a lot of players didn't go where they were expected (to go), some did, some didn't. You've got a lot of players who were drafted late that are playing real well right now for t he teams. I look at (the time in the NBDL) as I took a break for two months from the league, then came back in January." I still want to avoid being too hasty in declaring Dupree an undrafted success story, but he's off to a good start.

(Incidentally, my Udonis Haslem curse has been lifted. Haslem had an outstanding month of January, averaging 9.3 points and 7.6 rebounds per game while shooting 54.1% from the field.)
Eddy Curry
23 points last night, 20 or more in four of his last five games. That doesn't mean much, but it bears watching.

Kevin Pelton is an intern for the Seattle SuperSonics and is responsible for original content on Supersonics.com. He writes "Page 23" for Hoopsworld.com on a semi-regular basis. He can be reached via e-mail at kpelton@sonicscentral.com.